Bishop John T. Leslie Jr.
Bishop Dr. John T. Leslie, Jr., is one of the most sought-after Gospel preachers and teachers in America today.  Gifted with an encyclopedic knowledge of the Scriptures, and anointed with the ability to rightly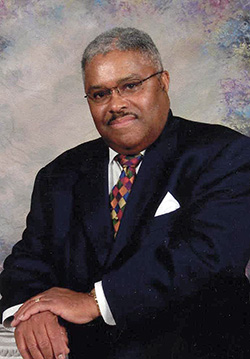 divide God's Word, Bishop Leslie has pastored the Church of Jesus Christ (COJC), Washington, D.C.'s fourth-oldest Apostolic church, since 1980.
Bishop Leslie was born in Macon, Ga., to the late John Thomas Leslie, Sr. and Essie (Fields) Leslie. At age 9, and a few short years after relocating to Washington, D.C., he was baptized in the name of Jesus Christ and filled with the Holy Ghost at COJC, under the leadership of its founder, Pastor Lena Sears. 
By the time he was 15, "Bro. John," as he was called, began teaching his first Sunday School class at COJC, and a year later, began preaching.
At 18, he was an official, licensed minister of the Pentecostal Churches of the Apostolic Faith, Inc. (PCAF). While a student at Howard University, Minister Leslie, began evangelizing across the United States – from Baltimore, Md., to Rochester, N.Y., from Chicago and Detroit, to Los Angeles.
In 1965, Minister Leslie earned a Bachelor's of Arts degree in Business Administration from Howard University in Washington, D.C. In 1967, he was ordained an Elder at the PCAF National Convention. He also earned a Master's degree in Business Management from Central Michigan University (date). In 1990, he earned a Doctorate of Theology from the Pentecostal Bible College in Tuskegee, Ala. Read More