Lady Louise Moore Leslie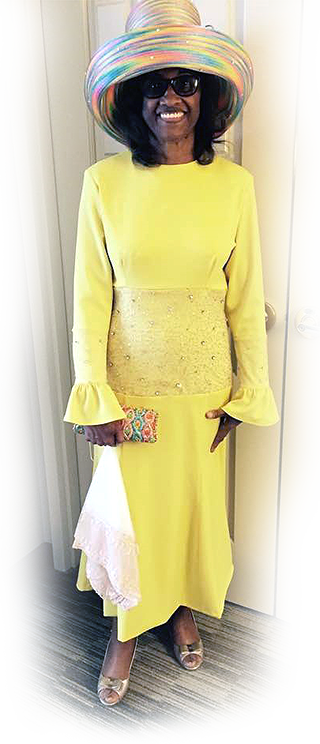 Louise Moore Leslie, the First Lady of the Church of Jesus Christ, is a sterling example of the virtuous woman described in the Book of Proverbs. For more than 43 years, First Lady Leslie has been a faithful supporter of the ministry of her husband, Bishop John T. Leslie, Jr., and the mission of COJC.
For nearly 40 years, First Lady Leslie has been a dynamic Sunday School teacher, instructing and leading youth in the study of God's word. Her teaching style and passion for instilling God's word into the hearts of 7 and 8 year olds, has blessed generations. Some of her students have gone on to become pastors, evangelists and even an award-winning gospel music recording artist, Professor Wilbur Belton, Jr.
In addition to teaching Sunday School, First Lady Leslie offers Godly wisdom as a frequent lecturer for the COJC singles ministry and as an advisor to the Daughters of Zion ministry. She also leads the successful booming COJC annual Women's March.
One thing have I desired of the Lord; that will I seek after that I might dwell in the house of the Lord all the days of my life to behold the beauty of the Lord and to inquire in his temple.

Psalms 27:4
During the annual national conventions of the Pentecostal Churches of the Apostolic Faith, Inc. (PCAF), you can find First Lady Leslie reading the line-up of activities to the audience. She is also the secretary of the PCAF's National Pastor's Wives Alliance and Public Relations Liasion.
Louise worked for the federal government for more than 34 years as an office manager in the Office of Congressional Relations. She was blessed to retire. While working in the federal government, she was involved in many classes and programs and received many awards and certificates for her first-class work and outstanding dedication.
Bishop & Lady Leslie have been blessed with five wonderful children: Monique (husband, Gerald); John III (wife, Cynthia); Teresina (husband, Michael); Philip (wife Phyllisina); and Stephen (wife, Tosheka); and nine adorable grandchildren: Stephen, Jr., Sierra, John IV, Michael III, Kennedy, Shante, Tamara, Seth, and Samuel. All of whom she loves so very much!