Bishop John T. Leslie, Jr.
Biography
Bishop John T. Leslie Jr., was born in Macon, Ga., to John Thomas Leslie, Sr. and Essie (Fields) Leslie. When he was nine years old, John Leslie, Jr., being taught and guided in the scriptures by his mother and step-father, Deacon Wilbur Belton, he was baptized in the name of Jesus Christ and was filled with the Holy Ghost under the leadership of the Church of Jesus Christ's (COJC) founder, the late Pastor Lena Sears. It was at this age when he dedicated his life to the ministry of Jesus Christ.
By the time he was 15, he began teaching Sunday School classes. At 16, he began preaching the Gospel of Jesus Christ. A year later, he held his first revival in Atlanta, GA. When he was 18, he received his first ministerial license from the Pentecostal Churches of the Apostolic Faith, Inc. (PCAF).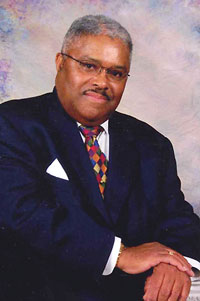 In 1965, Minister Leslie earned a Bachelor of Arts degree in Business Administration from Howard University. He also pursued a graduate degree in Business Management at American University, but it was at Central Michigan University in Mt. Pleasant, MI, where he earned his Masters in Business Management. He also earned his Doctorate of Theology from the Pentecostal Bible College in Tuskegee, AL.
In August,1967, Minister Leslie was ordained as an Elder within the PCAF. In 1975, Eld. Leslie was installed as the assistant pastor to Pastor Naomi Azivedo. Five years later, after Pastor Azivedo began to face an illness that would prevent her from continuing her leadership, Elder Leslie was installed as pastor.
As COJC's fourth and current pastor, Bishop Dr. John T. Leslie, Jr., is a highly sought-after speaker, known for his profound knowledge of the Scriptures and a fiery delivery. Bishop Leslie has taught and preached God's word throughout the United States, and in Ethiopia, Uganda, Liberia and Jerusalem. He is author of the book "Everybody Can't Be Right," a detailed analysis of God's true – and only – plan of salvation and the false doctrines that try to undermine it.
Author of
"Everybody Can't Be Right"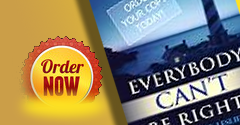 Video Interviews with Bishop
In High Regard...
" I love the pastor and first lady, Bishop & Lady Leslie the most! Both are very down to earth and they remember our names. They take time to talk with you and counsel you when you need it. These loving leaders are genuine and very sincere. This beautiful couple constantly promotes the Word of God and are incredible teachers. "

TJ & Lita Adams
COJC Members

" Our Pastor, Bishop John T. Leslie, Jr., whose preaching and teaching the word of God. He is well respected not only in the states, but in foreign countries. He loves the word of God and he don't mind sharing it with the members of COJC. "

Dr. Gwendolyn Bridgett
COJC Member